Teeth Whitening from a Cosmetic Dentist Can Boost Your Confidence
12 / 08 / 2015
If you're looking for a date or for your dream job, you may want to make sure your smile is brilliant. According to a study by Oral B, having whiter teeth can help you radiate success and make you seem more employable, and even help shed five years off your looks. The researchers came up with the results after synthesizing data gathered by asking over 2000 British men and women, including practising dentists, about white teeth.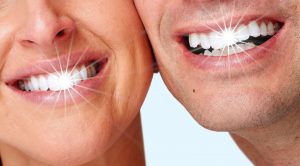 A More Youthful Appearance
It's important to remember that through the years, teeth enamel wears down and becomes more prone to staining. The discolouration can be attributed to the enamel thinning—if there's less of the solid white layer, the darker-coloured dentin inside the tooth begins to show through. Furthermore, if the pulp inside the tooth shrinks, the discolouration progresses further.
For those looking for a date, discoloured teeth is one of the most unattractive traits, beating skin spots and a bad hair day. Counteract this with sound oral hygiene and professional teeth whitening. The Oral B study claims that there's a theoretical 20 percent boost to your attractiveness if you have whiter teeth, and it can make anyone look about 5 years younger as well.
Land Your Dream Job
A person's chances of being hired rely heavily on first impressions. A study by a research firm in 2007 tackled this case, and subsequently presented evidence that a whiter smile exudes a stronger effect on personal interactions in both social and professional levels. Using simulated job interviews, the researchers found that participants who had their teeth whitened had a 58 percent chance of getting hired and a 53 percent chance of being offered a sizeable salary.
Professional Teeth Whitening is the Way to Go
Now that the facts are in, how can one whiten teeth? There are two options: go DIY or opt for professional whitening by a qualified cosmetic dentistry practitioner in London. A lot of people may choose DIY, but it has several drawbacks: DIY teeth whiteners actually have the potential to become addictive, and there's little to no guarantee of success.
On the other hand, whitening at the hands of a trained cosmetic dentist is perhaps the most popular method there is, and for good reason. For one, it's the safest tooth whitening method and it produces optimal, long-lasting results much faster. Fortunately, finding a skilled professional in London isn't that hard. There are numerous trusted dental practices, such as the London Bridge Dental Practice, throughout London.
Source:
White Teeth Can Make You Look Five Years Younger… And Even Get You A Job, Daily Mail
The power of white teeth, FemaleFirst.co.uk
Back to Blog