Smile Again With Dental Implants London
02 / 02 / 2017
Learn To Smile Again With Dental Implants London
If you have missing teeth, dental implants London may be just what you need. Missing teeth may not only cause discomfort and pain when eating, they can also become the cause of self-esteem issues. If you find yourself covering your smile with your hand or even keeping mouth closed when smiling, it's about time to pay a visit to London Bridge Dental Practice.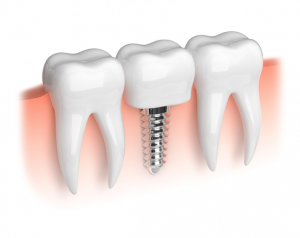 Replacing Missing Teeth
Missing teeth are best replaced with dental implants. A dental implant is an artificial tooth root which replaces a missing tooth. Dental implants are made of titanium and get inserted into the jaw bone where the titanium implant integrates with the bone.
What Are The Advantages of Dental Implants?
Dental implants are considered to be the most successful way of tooth replacement nowadays due to the number of the benefits for the patients.
There are a number of advantages to dental implants, including the following:
– Dental implants can help to improve your appearance. They simply feel and look like your own natural teeth.
– Our dental implants London are designed to fuse with bone to become permanent.
– Since dental implants replace missing teeth, they help you to avoid the dreaded mumbling that often happens with poor fitting dentures.
– Dental implants maintain the natural shape of your face and your smile and avoid sags and sad looks.
– Implants make eating easier. Since they function like your own natural teeth, they allow you to chew your food with confidence and without any pain.
– Dental implants improve your self-esteem because they give you a nice smile and help you feel satisfied about yourself.
– Implants improve the quality of your teeth in addition to improving your comfort since they become a part of you. No need to stay at home all the time because you feel uncomfortable or because you are embarrassed in public.
– Implants are durable enough to last for several years. With good care, our implants can last a lifetime.
– Dental implants eliminate the embarrassing situations of removing dentures.
– Dental implants are strong and durable and function like you natural teeth while performing daily activities such as eating, speaking and smiling.
– Dental implant are more predictable than many other restoration and repairing methods and have a track record of reliable long-term restoration success.
– Implants are a long-term investment comparing to other restorations and repairing costs – which could be higher and less effective.
Why Choose London Bridge Dental Practice?
Dental implants require a successful procedure. With us, you can rest assured that any complications will be prevented. If you take good care of your implants, they can last the rest of your life. We do our best to ensure that you are completely satisfied with the results. So call us today!
Back to Blog