See an SE1 Dentist to Avoid Problems that May Be Caused by Desk Diets
13 / 05 / 2015
Nowadays, everyone seems to always be on the go and busy with work, leaving little time to prepare meals. Many make do by simply grabbing the nearest food they can get their hands on. This happens not only during working hours, but also at breakfast and lunch.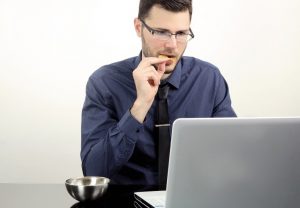 The practice is so common that experts have coined a term for it: "desk diet", which is food people eat while at work to keep their hunger at bay. Desk diet can definitely make one feel full and satisfied, yet can also have negative effects on your teeth. To avoid this, dentists advise moderating your consumption, or avoiding these desk diets altogether.
Common Desk Snacks
Low calorie snacks like popcorn and dried fruits are the go-to snacks of many who have to endure gruelling working hours, not aware of these foods' damaging effects on teeth. You might think that the sugar found in dried fruits are healthier because they are natural compared to the sugar in artificially-sweetened snacks. The truth is, the teeth doesn't differentiate between natural and artificial sugars, and both can spell trouble to your teeth.
If you do need to snack to get you by at work, try stocking up on firm and crunchy fruits instead, like apples and pears. Aside from satisfying your appetite, the high water content of these fruits help protect your teeth from exposure to too much sugar. Ask your SE1 dentist about other snacks that would be healthier for your teeth.
Hidden Culprits in Your Breakfast
Most people are in a rush to get to work in the morning that they eat only cereals for breakfast, a meal that can be prepared in just a few minutes. However, some breakfast cereals could actually be worse than chocolate biscuits, with over three teaspoons of sugar per serving.
If you're in a hurry and you have no time to whip up your own breakfast, opt instead for low-sugar choices, like wheat biscuits or unsweetened porridge oats. Honey or crunchy fruits can also be an alternative for those looking for sweet treats. You can still go for cereals, only don't forget to soak your cereals with dairy products to avoid the damaging effects of sugars on your teeth.
Aside from these healthier snack options for your on-the-go lifestyle, don't forget to regularly visit an SE1 dentist, like one at London Bridge Dental Practice. Preventing the worst oral problems begins with good daily oral care and regular visits to your dentist, so find the time to do these despite your busy schedule.
Sources:
How eating on the go is ruining your teeth: From popcorn to so-called 'healthy' smoothies, dentist reveals the dangers lurking in your 'desk diet', Daily Mail
Afternoon Snacks Ruining Your Teeth And Advice From Dentists On What To Eat Instead, Huffington Post
Back to Blog