Let Your London Smile Shine This Summer With Invisalign
25 / 04 / 2014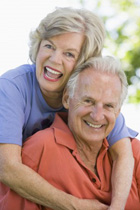 We are delighted to offer Invisalign treatment for patients in London. If you're looking to enjoy a gorgeous smile this summer, why not visit us to find out more about this amazing invisible treatment?
Our team has expertise in creating beautiful smiles using Invisalign and you could soon be sporting a stunning, straight smile!
How is Invisalign different?
Invisalign is a far cry from the metal train-tracks, which pop into your mind when somebody mentions braces. Rather than using traditional brackets and wires, Invisalign utilises aligners, which are removable appliances, made from clear plastic. The aligners sit over the teeth and they do not have any metal parts or bands.
Invisalign uses a series of aligners to gradually reposition and realign the teeth. The treatment pathway is planned in advance and each appliance is shaped differently. All the aligners are worn for 2 weeks and they must follow a specific order.
Why is Invisalign so great?
Invisalign is a really popular treatment and it's not hard to see why. Aside from the obvious benefit that the aligners are clear and therefore virtually invisible to others, these braces are removable, which gives you flexibility and they are also comfortable. Treatment has minimum impact on your normal daily routine because you can take your aligners out to enjoy a meal out or brush your teeth; this also helps to maintain good oral hygiene.
Invisalign is suitable for a wide range of patients and we also offer Invisalign Lite for patients with minor issues and Invisalign Teen for younger patients.
Back to Blog