Inviting Implants To Improve Your London Smiles
14 / 04 / 2014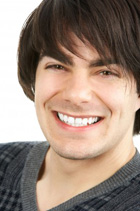 Many Londoners are choosing to invest money in making their smile look more attractive and we are delighted to offer a range of impressive modern dental treatments, including dental implants. For those who have been struggling with ill-fitting dentures or worrying about what people think very time they open their mouth and show off a gapped-tooth smile, dental implants could be the perfect solution.
Are dental implants an option for me?
Dental implants are a really versatile treatment and they are a good match for most clients. Implants have many benefits, not solely for the look of your smile, but also in terms of the function of your mouth. Once you have implants, you really can do everything you did before you lost your teeth, so you don't need to panic about eating in public or being understood when you speak. When you have your consultation, your dentist will carry out the necessary checks to make sure that this is a viable treatment for you.
How do implants work?
Implants are essentially a replacement for the tooth root. They are small titanium posts, which are fixed into sockets in the jaw bone and then left to integrate into the bone. Once the implant has settled, it is capable of supporting tooth restorations and once this is in place, the tooth will look and work like a natural tooth.
Dental implants can be attached to bridges, dentures and crowns, so you can consider this treatment if you have a single missing tooth or many missing teeth.
Why should I consider dental implants?
Dental implants are the closest option to natural teeth and they are designed to last for many years. They are versatile and provide higher levels of functionality and better aesthetics than other tooth replacement treatments. They are easy to look after and they are anchored firmly into the jaw, so there is no risk of the new tooth coming loose.
Back to Blog