Have Missing Teeth? Dental Implants Help Restore Your Natural Smile
20 / 08 / 2015
Having missing teeth can often prove to be a leading cause to hide your smile from the world. Most times, it also puts a considerable strain on your daily activities like eating and conversing freely. If you are feeling self-conscious or don't want to alter your tooth structure to accommodate a bridge, consult your dentist in London to see if dental implants are a suitable option for filling the void.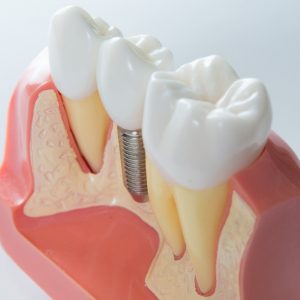 Dental implants are metal (usually titanium) prostheses, which are surgically fused to the jawbone just beneath the gums. They serve as a fitting base to mount the artificial tooth or teeth. As long as you have healthy gums with adequate bone structure to support the prosthetic foundation, then you could definitely benefit from the restorative properties of implants.
Today, implants are a very popular choice for replacing missing or damaged teeth and restoring your smile's natural gleam. Here's some reasons why:
They are designed to last a lifetime – Unlike regular dental bridges, which have an average lifespan of only about seven or eight years, implants are built as a long term solution which may only require slight adjustments from time to time.
They look perfectly natural – Most times, it is virtually impossible to tell the difference between an implant and a natural tooth, so you can go ahead and beam your new smile without worry.
Bid farewell to cavities – Since implants are made of titanium or some other durable metal, they are basically impervious to cavities and other forms of dental decay. Nevertheless, you would still need to care for it the same way you would your natural teeth.
Savour your favourite foods without fear – Unlike some denture fittings that restrict your diet, implants allow you to eat whatever you want without feeling awkward. You can bite and chew every morsel of your preferred dishes with gusto and relative ease.
Implants preserve your bone structures – A void in your teeth structure caused by tooth loss may lead to a deterioration of the key functions of the jawbone. Implants protect natural bone by making sure those empty slots are effectively covered and put to use, preventing bone loss.
To make the most out of your dental implants follow a proper oral care routine. This means you mustn't only focus on regular brushing and flossing, but it obligatory to visit your dentist frequently as well. Experienced London dentists, like the ones from London Bridge Dental Practice, can examine the tissues around the implants for calcified deposits and prescribe necessary treatment or precautionary measures. This allows you to enjoy the benefits of dental implants in London for longer.
Source:
The British Academy of Implant Dentistry
Dental Implants, Medicine Net
Oral Care, Web MD
What Are Dental Implants?, Colgate Oral Center
Back to Blog