Get Your London Dental Bridge In The Heart Of The City
02 / 04 / 2014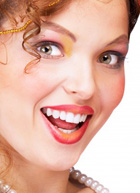 There are several benefits of replacing a missing tooth and we offer a range of options, including dental bridges.
About dental bridges
Dental bridges are a very popular option for patients who have a missing tooth. Essentially, the bridge is made of a false tooth, which is called a pontic, which is bonded to the neighbouring teeth to bridge the gap. There are different kinds of bridge to suit varying needs, including a cantilever bridge for gaps surrounded by healthy teeth on one side only and a resin-bonded bridge for missing front teeth.
Dental bridges, like crowns, can be made from various different substances, including precious metals and ceramics. We often recommend ceramic bridges which are bolstered by metal, so that the bridge looks natural and blends in with the natural teeth, but also offers strength and durability.
How long does a dental bridge last?
Bridges are not built to last forever, but they are a durable and hard-wearing solution and they should last for around 10-15 years. Your bridge will be checked out every time you have a routine dental check.
Is a bridge the best option for me?
There are various options available to patients who have lost teeth, including dentures, dental implants and bridges. It can be difficult to make a decision and this is why we run through all the options with you and explain the pros and cons of the different treatments to ensure you are able to make a well-informed decision. We will also be able to make recommendations once we have assessed your needs and taken factors, such as your budget and the kind of treatment you would prefer, into account.
Back to Blog