Expert London Cosmetic Dentistry Can Help You Fix Your "Gummy" Smile
04 / 05 / 2015
Smiling can make for a great display of confidence, but it's hard to show that if you're suffering from a so-called "gummy smile," wherein more of the gum line is visible than the teeth themselves. This then leads to an unsightly smile overall, but the effects go well beyond looks—a gummy smile also doesn't allow one to eat or speak comfortably since the excess gums practically impede normal teeth function.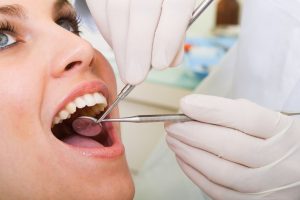 Your teeth may be in the best shape anyone can ever hope theirs to achieve, but with a gummy smile, their beauty will be diminished. Fortunately, this is an easy problem for an expert in cosmetic dentistry in London to solve. The solution? A special surgical process called "gum contouring."
In the past, patients with "gummy smiles" had to go through the ordeal or having their gums trimmed by a scalpel, which could cause unnecessary bleeding and a troublesome recovery. Now, all those problems are a thing of the past with the advent of laser gum contouring; a procedure that's fast enough to be completed in only a single visit. In addition to the significantly reduced number of dental check-ups, the results are also visible almost outright.
First, however, it helps to understand what causes uneven gums to begin with. For excessive gums (those that cover a larger-than-normal portion of the teeth), experts agree on genetics, specific health problems or consumption of certain prescription drugs as culprits. Abnormal teeth eruption is another possible cause—teeth covered by excessive gum tissue appear short, even though they might really be of proper dimensions. Lastly, there's the case of a "hyper-mobile" upper lip, or one which moves too far up when smiling.
Gum contouring is largely considered a typical London cosmetic dentistry procedure, since people often visit clinics like the London Bridge Dental Practice simply to improve their grins. At times, though, people need gum contouring as part of necessary procedures such as crown lengthening, pocket reduction and regenerative procedures. It's a pretty straightforward procedure simple enough to only require a local anaesthetic on common occasions.
If you're somewhat worried about the cost, you should know there is no set amount you'll have to pay since fees are heavily dependent on your chosen dentist's level of expertise, the extent of the procedure and quality of administration. You can expect costs to be lower if the gum line which needs treatment is only affecting a single tooth, for one, whereas a treatment that involves the entire visible gum line will warrant a bigger bill.
Sources:
What Is Gum Contouring And How Can It Help You? WorlDental.org, January 7, 2013
A Guide To Gum Contouring, DentalGuide.co.uk
Gum Contouring, DocShop.com, June 5, 2014
Gum Contouring, WebMD.com
The Gummy Smile: Excessive Gingival Display Or Delayed Passive Eruption, YourDentistryGuide.com
Treating A 'Gummy' Smile Depends On Its Cause, SignatureSmilesDental.com, November 7, 2013
Gum Contouring: Is It Right For You? WebMD.com
Back to Blog