Dental Implants: The Supportive Structures That Can Save Your Smile
27 / 10 / 2015
Dental implants in London are artificial tooth roots that are placed into your jaw to hold replacement teeth in position. They may be an option for you if you have lost teeth due to gum disease or an injury.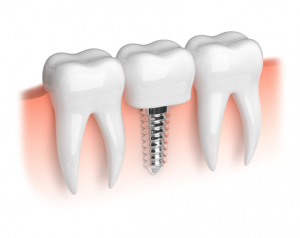 Suitability to Dental Implants
Your eligibility for dental implants will be determined by your dentist following an oral exam. During the exam, your dentist may take x-rays of your jaw, paying close attention to the quantity and quality of your jaw bone. You may not be able to proceed with treatment if the bone in the region of your planned implants is unhealthy or does not have enough mass.
Types of Dental Implants 
There are two main types of dental implants: endosteal and subperiosteal implants. Endosteal implants are the most commonly used implants. They include screws, blades, or cylinders that are surgically placed into your jawbone. Subperiosteal implants are placed on top of the jawbone. They may be your ideal option if you have minimal bone height or density.
Advantages of Dental Implants
Dental implants offer many advantages over other restoration options. In addition to holding your artificial teeth in place, they replace your tooth roots. They fuse with your jawbone, helping to keep it intact.
Placement of Dental Implants
The most common method of placing dental implants is three-step, or staged, surgery. First, your dentist will place the implants under your gum so that they can fuse with your jawbone. Second, he will connect posts or abutments, which will penetrate through your gum and into your mouth. Finally, he will fit your artificial teeth to the abutments.
Caring for Dental Implants
Proper care of your dental implants in London is important to their longevity. The implants themselves will not decay, but conscientious at-home brushing and flossing is still required to prevent plaque from building up at the gum line.
Your implants will also require periodic checking by your dentist to ensure they function correctly. The screws that attach your artificial teeth to your abutments may loosen over time. If this happens, your dentist will simply retighten or replace the screws. Similarly, if your cemented artificial teeth become loose, your dentist will remove, clean, and re-cement them.
Sources
Dental Implants, American Academy of Periodontology
Healing and Treatment Care, Academy of Osseointegration
Back to Blog