Dental Implants in London: A Look their Long History and Evolution
06 / 05 / 2015
Since the beginning of time, humans have been seeking ways to replace lost or missing teeth. Today,  dental implants in London and elsewhere represent the pinnacle of teeth replacement methods. Before that, however, man had made use of various techniques and contraptions to compensate for their missing teeth.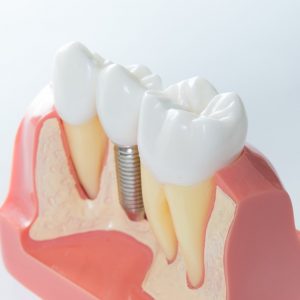 Human skulls dating back to 600 AD have shown that surgeons used carved seashells as a method of tooth replacement. In ancient China, teeth were replaced with carved bamboo pegs while in other parts of the world people tried to replace teeth with animal teeth or teeth bought from slaves or poor people. Some of the replacements were found to have been fused to the jawbone. It is evident that man had relied on various materials that may have been awkward or had poor success rates.
Things changed in 1952, when orthopaedic surgeon Per-Ingvar Branemark found that a titanium cylinder had fused with the rabbit femur he had placed it in. He would continue to study and experiment until 1965, when he installed his first titanium dental implant in a human volunteer. From then on, the modern dental implant would be improved upon into what it is today.
A dental implant is a tooth root replacement that serves as a foundation for fixed or removable teeth. They are made to look and feel like natural teeth and in time they fuse to the bone. They are very durable and will last a very long time given the proper care. Dental implants have a very high success rate, which is why they are preferred over dentures. In addition, implants function like real teeth unlike dentures that can make chewing difficult.
Teeth are invaluable to humans, which is why procedures that seek to replace lost or missing teeth have been done since thousands of years ago. People don't like the idea of having a missing tooth, both for functional and aesthetic reasons.
Those who need a tooth to be replaced should get a dental implant from London practices like London Bridge Dental Practice. Such practices have lots of experience when it comes to implant dentistry and have a relaxed and informal approach, which is most appreciated by many patients.
Sources:
The History of Dental Implants, The Dental Geek, March 6, 2015
Dental Implants, WebMD
Back to Blog