Dental Implants: A Permanent Solution to Your Concern on Missing Teeth
21 / 09 / 2015
A dental implant is a small metal post which is secured into your jawbone to replace the root of a missing tooth. Your dentist can fit an implant while you are under an anaesthetic, so you can undergo this procedure without feeling any pain or discomfort.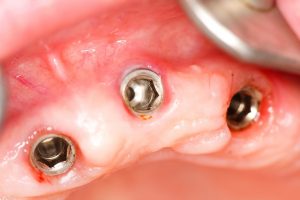 Your dentist will use a dental drill to place the implant into your jawbone before stitching your gum back over the implant area. Once the implant has been fitted, it will be left to integrate with your jawbone. The procedure to fit an implant does not take too long, but afterwards you must wait for your implant to fuse to your jawbone. This process usually takes three to six months. During this time, you will need to avoid placing any stress or exerting any pressure upon your dental implants.
You may be advised to eat a soft-food diet for at least the first week of your recovery, gradually working up to harder foods as your implant integrates with your jawbone. Safe food choices following implant surgery include: noodles, rice, mashed potatoes, bananas, peaches, nectarines, melons, eggs, fish, milk and yogurt. You should not use a drinking straw for the first 48 hours after your surgery, as it may push against your implant.
Once your implant has fully fused with your jawbone, an abutment will be fitted, which will then be used to support an artificial tooth. A number of options are available to you, including:
• Crowns: for the replacement of a single tooth
• Bridges: for the replacement of several teeth
• Dentures: for the replacement of a full arch of teeth
Once your dental implants and artificial teeth are in place, you can expect it to mimic the action of a natural tooth. You will not need to alter your diet, worry about the tooth falling out, or fret about your speech being affected.
If you look after your dental implant, it should last you a lifetime. To maximise the lifespan of your implant, maintain good oral hygiene, avoid cigarette smoking, and visit your dentist regularly for inspection of your implant, teeth, and gums. London residents with missing teeth, or are facing the prospect of losing one or more teeth can consult with a dentist like one at London Bridge Dental Practice.
Sources
Dental implants, European Federation of Periodontology
Oral Care, WebMD
Back to Blog