Boost teenagers' confidence with Invisalign teen braces from London SE1 dentist
02 / 01 / 2010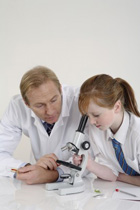 One of the things most associated stereotypically with teenagers is braces. The ugly and messy train track braces used so prevalently over the last thirty years. While still effective, these braces are hardly appealing to teenagers passing through the most difficult and turbulent developing years. Unseemly metal braces can have a significant effect on the self-confidence of teenagers at a time when standing out from the crowd is the last thing they want. But if your teenager needs braces they might just have a reason to smile.
Invisalign Teen is an invisible brace system developed from the Invisalign range, offering discreet and effective treatment that caters for all your teenager's dental needs. Designed by dentists with specialist knowledge of teenage dental care, including care of more than just their teeth, Invisalign Teen braces are made from one millimetre thick clear plastic that is virtually invisible. The braces can be used to correct overcrowded, misaligned or unevenly spaced teeth in almost all cases and are manufactured using the latest 3D technology. The Teen range also comes with special blue dot indicators that show if the brace is being worn for the correct amount of time, which is very reassuring for parents.
Another advantage of the Invisalign system is that the braces are completely removable. This means that unlike fixed braces there is no need for the braces to impact on the overall dental health of the patient as they can be removed for cleaning. The Invisalign teen range is the perfect solution for straightening your teenager's teeth while maintaining their self-confidence and dental health. Available from London SE1 dentists, the Invisalign Teen system is the future of teenage teeth straightening.
Back to Blog