Bad Teeth? London Cosmetic Dentistry Can Help You Get Your First Job
10 / 03 / 2015
How do you see yourself months after graduating college? You probably dream of a high-paying job that will help get a nice apartment and a car; a life where you go to work every day in those crispy suits and nice hair, looking all dapper and gorgeous. Before you pursue this, however, you might want to check if your smile is dressing the part. If you are to compete with other applicants who have the same level of education and skill that you do and who dress just as sharp, your smile is the accessory that'll make you stand out.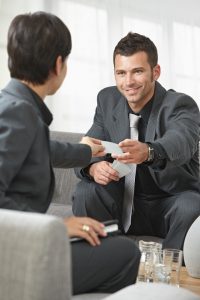 No matter how objective your interviewer is, you can't expect him to judge you solely on your resume. How you carry yourself has a great bearing on whether or not you'll be signing that contract. According to a London cosmetic dentistry professional, a stained, crooked, widely-spaced smile gives the impression that you're not putting your best foot forward for your health or your career, particularly if you're eyeing a high–paying job that involves lots of social interaction. Bad teeth could even cost you your job.
According to studies, hiring managers are likely to prefer applicants with better smiles. Kelton Research found that people with a nice set of teeth are 45% more likely to land a job than those with crooked teeth. Why is this so? Simple. Bad teeth are often equated to an unhealthy lifestyle and if you're negligent about that, how will you be able to take care of your job?
Better teeth don't just mean a brighter smile; they project the image that you are self-assured, confident, and highly adaptable to the people around you. Managers favour it because it's one factor that increases sales and opens business opportunities. If you were in their position, wouldn't you send your tidiest employee to face your customers or partners?
Remember that hiring managers rely heavily on first impression. They follow their intuition and judge applicants based on what's placed in front of them. With the increasing competition for jobs among fresh graduates and experienced employees, hiring managers can be choosy. A dashing smile is one asset you simply can't do without. If you have stained, yellowish, crooked, gapped, or missing teeth, London cosmetic dentistry clinics like London Bridge Dental Practice have the solutions to help remedy your problem. Visit a cosmetic dentist now to prepare yourself for the working world.
(Source: What Kind of First Impression Are You Making? Shape.com)
Back to Blog